Are you looking for the best things to do in Mirissa? You've come to the right place!
Mirissa is one of the most popular beach destinations on the south coast of Sri Lanka.
Known for its beautiful beaches, world-class whale and dolphin-watching, numerous surf spots, and crystal-clear waters, this small fishing town is a great place to relax and soak up the chilled tropical vibes.
I spent over a month living a few kilometres away from Mirissa earlier this year – in a little village just the other side of Weligama – and know it pretty well. During this time, I explored most of the things to do in Mirissa and the surrounding area.
It's a fantastic place to base yourself, whether you're a surfer, a digital nomad, or are just looking for a chilled beach town for your next holiday. There are also some really excellent hotels in Mirissa too.
🤩 Short for time? Hiring a private car with a driver can help you see a lot of Sri Lanka in a short space of time!
17 Best Things to Do in Mirissa, Sri Lanka
Visiting Mirissa is definitely worth it and there are loads of great things to see and do here. So, without further ado, here's my pick of what to do in Mirissa.
Explore Mirissa Beach
Mirissa Beach is one of Sri Lanka's most famous and popular beach destinations. It's a kilometre-long stretch of soft white sand, dotted with beach bars and relaxed little cafes and restaurants.
It's the kind of place where you can easily spend days lazing in the sun, going for dips in the warm waters of the Indian Ocean, sipping fresh coconuts, and not doing a huge amount else.
Despite being well-known, Mirissa Beach is large enough that it rarely feels crowded. It's usually pretty easy to find your own secluded spot of beach paradise.
I loved taking long walks along the length of this amazing beach. You can often spot sea turtles from the shore, and the beach itself has a gorgeous natural setting, framed by dramatic cliffs at one end and Parrot Rock (see below) at the other.
Sunsets here can be really breathtaking too. As darkness falls, a few of the beachfront restaurants set out tables with flickering candles on the sand, so you can dine under the stars. The whole place is incredibly atmospheric.
Whale Watching in Mirissa
Mirissa is Sri Lanka's most famous whale-watching destination.
It's one of the best places in the world to spot blue whales – the largest known animal that's ever lived. These massive creatures flock to the warm waters around Sri Lanka to breed.
As well as blue whales, it's common to spot various other marine mammals here including sperm whales, fin whales, pilot whales, and many different species of dolphin.
I went on a whale-watching boat trip during my time in Mirissa and it was an amazing experience.
We didn't see a blue whale that day sadly. However, we did see a fin whale (the blue whale's closest relative), several huge pods of pilot whales, bottlenose dolphins, spinner dolphins, common dolphins, and lots of sea turtles.
There are many different operators offering whale-watching tours in Mirissa.
However, it's important to only book an ethical whale-watching tour. Sadly, the majority of operators here are not ethical.
I saw many boat operators chasing the whales, crowding them, getting too close, and generally stressing them out.
This is not okay and you should not support operators that engage in these sorts of unethical practices. Your whale sighting is not more important than the well-being of these animals.
Ethical whale-watching trips ensure that the animals are given enough space, not chased against their will, and generally treated with the respect that they deserve.
Three ethical whale-watching companies in Mirissa are Raja & the Whales, Whale Watching Club, and Whale Warriors.
Seeing these incredible animals in their natural environment is a truly unforgettable experience and a real privilege.
However, please only book with ethical operators to ensure that you aren't contributing to these amazing animals being harmed.
It costs around $45 USD per person for a 4-6 hour trip and is definitely worth doing while you're in Mirissa.
The best time to spot blue whales is from November to April. Many other species can be seen year-round though so it's a great thing to do at any time of year.
🤩 Please only book ethical whale-watching trips in Mirissa
See also:
Visit Coconut Tree Hill
Coconut Tree Hill is one of Mirissa's most iconic spots and one of the most photographed places in the area.
From here you can enjoy a 360-degree view of the surrounding beaches, cliffs, and bays, all perfectly framed by a line of swaying coconut palms.
Whether you're an amateur photographer or a professional, you'll definitely find something worth capturing here.
It's particularly photogenic at sunrise and sunset. The sky is painted with vivid colours and the palms form silhouettes like something straight out of a travel magazine.
However long you have to spend there, don't forget to include Coconut Tree Hill in your Mirissa itinerary.
Water Sports
Mirissa is a dream destination for watersports. You can go scuba diving, snorkelling, jet skiing, windsurfing, sea fishing, sailing, and kiteboarding, among other things. It's also a great place for surfing (more info on this below).
The Indian Ocean is warm year-round and the tourism infrastructure here is fairly well developed. You can rent all of the necessary equipment from various spots either on the beach or in the main town.
Whether you go snorkeling or scuba diving, you'll have the opportunity to see all kinds of beautiful sea creatures, colourful fish, vibrant living corals, and unique underwater rock formations.
Even if you're not really a water baby, there are a few boat tours that allow you to explore the area's stunning coral reefs from the comfort of a glass-bottomed boat.
Alternatively, why not rent a kayak or a paddleboard and set out on your own coastal adventure?
Discover Secret Beach
It's no longer quite as secret as it once was. But Mirissa's Secret Beach is still a gorgeous and secluded little beach that's the perfect place to relax and escape from it all.
Secret Beach is located about halfway between Mirissa's main beach and the harbour and is one of my favourite beaches in the area.
There are a couple of little beach bars here with some sun loungers and a few hammocks. But other than that, the place is totally natural and unspoiled.
Its sheltered location means that the sea is calm and safe to take a dip here most of the time, even when it's too rough elsewhere. Just be careful of sea urchins on the rocks!
To get to Secret Beach, head to the western end of Mirissa Beach. Then, take the main road that runs towards the harbour until you come to a little track between the houses off to your left. From here, it's a 10-minute walk to Secret Beach.
Follow these directions on Google Maps. You can always ask a local to point you the right way if you get stuck.
Take a Boat Trip
The rocky coastline around Mirissa has many hidden coves, beaches, islets, cliffs, and other sights that can only be seen and accessed from the sea.
Going on a boat trip is a great way to take in the beauty of the surrounding shoreline. You'll enjoy some unique views and may well encounter friendly pods of dolphins dancing in the waves and other marine creatures.
You'll probably also see some of the local fishermen who make their living in these waters, just as their ancestors have done for thousands of years.
Once you get out past the surf, the gentle bobbing of the boat and the sound of the lapping water is also supremely relaxing.
You might even be able to go for a swim out at sea – a really fun and memorable experience.
Or hop on a sunset boat tour and cruise along the coastline, basking in the warm glow of the setting sun. Marvel at the kaleidoscope of colors painting the sky as the sun dips below the horizon.
🤩 Check out this amazing night snorkelling experience in Mirissa
Climb Parrot Rock
Parrot Rock in Mirissa is a small rocky island that lies about 50 metres off the eastern end of Mirissa Beach. Head to the beach and you can't miss it (on the left-hand side, as you face the ocean).
There are steps leading up to the top. From here, you can enjoy a really spectacular view of Mirissa Beach and also great views out to sea.
It's a tidal island, which means that you can access it via a causeway that's revealed at low tide. You need to time it right to ensure that you can get across (and safely back again).
Even when the causeway is submerged, you can still wade through the sea to reach the island. However, only do this when the sea is calm and it's not windy – otherwise, this would be fairly dangerous.
Climbing up to the top of Parrot Rock is one of the most fun things to do in Mirissa. When I was there, I saw several turtles in the ocean, both when I was walking along the causeway and also from the top of the rock.
It can get a little crowded, especially at sunset. But it's still definitely still worth doing.
Feast on Fresh Seafood
Mirissa is still a working fishing town and is home to some really excellent fish and seafood restaurants. I ate some of the tastiest seafood of all my time in Sri Lanka here.
From simple grilled fish that's virtually straight off the boat to prawns simmered in coconut milk to zesty crab curries, there's a huge range of mouthwatering dishes to enjoy. And it's all so fresh, and (mostly) excellent value.
I'm actually getting hungry thinking about how good the food is in Mirissa.
Try eating at 101 Restaurant Mirissa, one of my favourite restaurants in Mirissa. I can personally recommend their seafood kottu and their (outrageously large and delicious) fish burger.
Tropical House Restaurant Mirissa is also excellent, especially if you fancy some simple and perfectly grilled fresh fish.
Yoga and Meditation Retreats
Mirissa is a haven for those seeking inner peace and relaxation. There are several yoga and meditation retreats that offer the opportunity to truly experience the calming serenity of this beautiful beach town.
Joining a retreat allows you to disconnect from the chaos of daily life and reconnect with your mind, body, and spirit. It's an immersive experience of learning, rejuvenation, and relaxation – perfect for those looking to escape the everyday grind.
Experienced instructors will guide you through rejuvenating yoga sessions and meditation practices, helping you find balance and harmony.
From practicing yoga on the beach at sunrise or sunset, to taking part in workshops and seminars, you can take your practice to a whole new level.
And if you're a total beginner, that's totally fine. There are programmes specifically tailored to all levels.
Whether it's learning the basics of yoga postures, deepening your practice, or engaging in some deep meditation, these retreats are designed to help you develop your skillset and find peace within yourself.
🤩 Check out this highly-reviewed yoga retreat in Mirissa
Explore Mirissa Fisheries Harbour
Wandering around the docks of Mirissa Harbour offers a glimpse into the local fishing industry and the lives of the people who make a living from it.
It's a unique cultural experience that allows you to appreciate the importance of fishing in the region and the integral role it plays in Mirissa's identity.
You'll see colourful fishing boats coming and going, people repairing nets by hand, and multiple generations of fishermen going about their daily business.
If you don't mind a very early start (like, 5am early), you can visit the famous Mirissa fish market. Here you'll witness fishermen unloading their overnight catch, and local restaurant owners and others haggling over the freshest fish.
It's an unforgettable experience and a great thing to do in Mirissa!
Take a Day Trip to Galle (One of the Best Day Trips from Mirissa)
Less than an hour's drive from Mirissa lies the historic colonial city of Galle.
Visiting this picturesque fortified city is one of the best day trips from Mirissa. I've been to Galle three times and each time I discovered something new about this fascinating and unique place.
Galle Fort is an enchanting place to explore, with its colonial-era fortifications and atmospheric backstreets.
Built by the Portuguese in the 16th century and later fortified by the Dutch, and then again by the British, it was declared a UNESCO World Heritage Site in 1988.
The walls of the fort are wide and thick, stretching for over 2 kilometres around the edge of the old town. You can walk along the tops of the ramparts where you'll see various bastions and other defensive structures.
The whole thing is located on a peninsula that juts out into the beautiful turquoise waters of the Indian Ocean. The natural setting is really spectacular.
Inside the walls lies an amazing mishmash of architecture spanning a range of styles, including churches, mosques, grand colonial mansions, and old warehouses.
Get lost in the narrow alleys that are today filled with boutique shops and cafes. Visit historic landmarks such as the Dutch Reformed Church, Galle Fort Clocktower, and the iconic Galle Lighthouse.
You can also dive into the city's rich maritime history by visiting the National Maritime Museum.
Stop off at KiXi, one of my favourite cafes in all of Sri Lanka. They do really delicious iced coffees – perfect for a cooling pick-me-up to fuel a long day of sightseeing.
To get to Galle, you can take one of the regular buses that run along the main coastal road between Galle and Matara (a town further along the coast from Mirissa). You could also take a taxi, tuk-tuk, or hire a scooter.
Alternatively, the easiest way to visit Galle from Mirissa is to join a guided tour that includes transport.
🤩 Check out this guided day trip tour of Galle (includes transport to/from Mirissa)
Visit the Mirissa Snake Farm
As long as you don't have a phobia of snakes(!), the Weligama Snake Farm is an exciting and interesting place to visit.
Located about 9 kilometres inland from Mirissa, surrounded by lush jungle, near the village of Telijjawila, it's home to a large number of snakes that are endemic to Sri Lanka, including cobras, pythons, and vipers.
It's a family-run operation that rescues injured snakes and relocates them from people's houses and farmland to safer locations.
The owners also collect the venom of poisonous snakes which can be used for antivenom to treat people that have been bitten.
The snake farm puts on educational demonstrations that give you an opportunity to learn about various different snake species.
You'll be able to observe venomous and non-venomous snakes up close while gaining a deeper understanding of these fascinating and widely misunderstood creatures.
You'll also learn about their diet and natural habitat, as well as other interesting facts about each species.
I was a little skeptical of the ethics of this place at first, given that the snakes are kept in captivity before being released back into the wild. However, I learned that many Sri Lankans are afraid of all snakes, and will try to kill any snake that they see.
I figured that a centre that educates people about Sri Lanka's snakes is a good thing on balance. Plus, the fact that the owners help to produce antivenom is also definitely a good thing. But you can make up your own mind.
Entrance costs 2,000 LKR per adult for foreigners (it's free for children).
Try Ayurvedic Spa Treatments
Mirissa is a very popular place for Ayurvedic spa treatments. Ayurveda is an ancient healing system that uses natural ingredients, traditional techniques, and treatments to bring balance to your body, mind, and spirit.
There are many places in Mirissa where you can experience the therapeutic benefits of Ayurveda through massages, herbal treatments, and holistic therapies.
The traditional practice of Shirodhara involves pouring a combination of warm oil, herbs, and spices over your forehead, followed by a gentle massage. The aim is to relax your mind and open up your senses.
Another popular choice is Abhyanga, a full body massage using special oils selected according to your individual needs. This treatment helps improve circulation while calming the mind and body.
You can also enjoy herbal steam treatments or detoxifying scrubs to cleanse the skin and enhance overall well-being.
Whether you're looking for relief from stress, detoxification, or simply a blissful escape, I definitely recommend trying out an Ayurvedic spa treatment during your time in Mirissa.
I've had several Ayurvedic treatments and they certainly leave you feeling more relaxed, rejuvenated, and calm inside.
Secret Root Spa is one of the best places in Mirissa.
Learn to Surf
The area around Mirissa is known for its many excellent surf breaks. There's something for every level and ability here, from gentle beginner-friendly beach breaks to challenging reefs.
If you're a total beginner, you can join a surf school, or just opt for individual beginner lessons. Your instructor will guide you through all the basics and teach you some essential techniques that you can go away and practice by yourself.
And with board hire costing as little as 500 LKR (about $1.60 USD) per hour, it's also one of the cheapest places in the world to learn how to surf.
Alternatively, just down the road, neighbouring Weligama is one of the most famous and popular beginner surf spots on Sri Lanka's South Coast. I actually had my first surf lesson ever here!
If you're an experienced surfer, Mirissa also has a right-hand reef point break, plus an easier left-hander closer to the harbour.
For more info, see my comprehensive guide to surfing in Sri Lanka.
🤩 Want to learn how to surf? Check out this excellent beginner surf lesson in Weligama!
Enjoy the Nightlife in Mirissa
When the sun goes down, this sleepy beach town comes alive with energy. It's nowhere near as loud and pumping as places like Unawatuna further up the coast, but personally, I much prefer the vibe here.
There are many great beach bars and restaurants along the seafront that put on live music, DJs, and entertainment most evenings, showcasing local talent and international acts.
Good music, tasty (and relatively inexpensive) drinks, and the sound of crashing waves: it's a pretty great combination.
You can often find lively beach parties and bonfires on the beach that illuminate the night sky. Join the locals and other visitors dancing under the stars.
This is especially common on Poya days – i.e. when there's a full moon. Think Thai full-moon party, but without the mashed 18-year-olds. (Well, there might be one or two.)
🤩 Travelling from Mirissa to Ella? This transfer also includes a safari in Yala National Park!
Here are 8 of the best national parks for going on safari in Sri Lanka.
Take a Traditional Sri Lankan Cooking Class
Taking a Sri Lankan cooking class in Mirissa is a great way to immerse yourself in the local food culture.
I've taken several cooking classes in Sri Lanka and they were all fantastic. I love Sri Lankan food and really enjoy being able to make it for myself at home whenever I want.
There are several great cooking classes in Mirissa to choose from. In each one, you'll be taught how to make a range of classic Sri Lankan dishes, as well as how to prepare fresh coconut milk from scratch.
Discover the perfect balance of flavours, using a wide range of locally produced spices such as cinnamon, cardamom, curry leaves, and turmeric.
Most cooking classes in Mirissa take place in local homes. This not only provides an authentic experience but also offers a chance to connect with local people and gain insights into their rich culture.
The recipes you'll learn will have been lovingly passed down through generations, ensuring an authentic taste of Sri Lanka that you can recreate at home.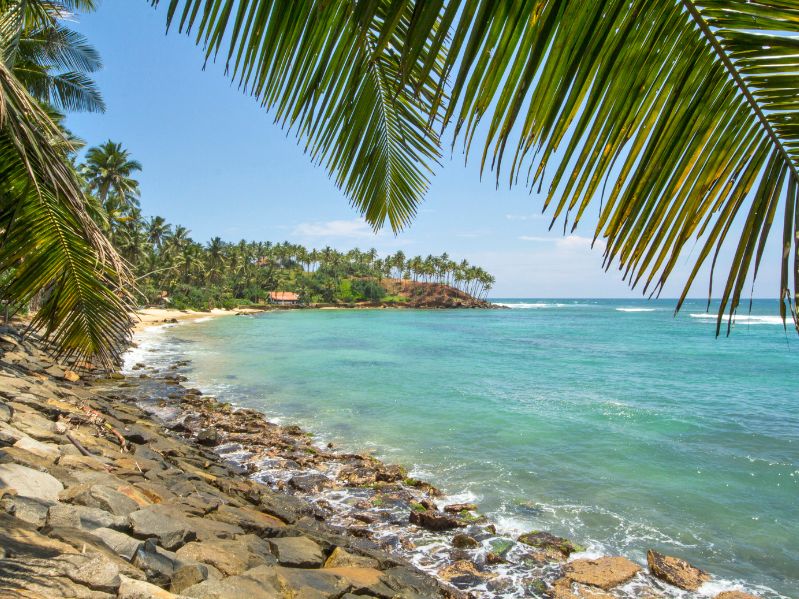 Relax and Rejuvenate at a Spa Resort
Last but not least, why not treat yourself to the ultimate indulgence and spend a day or two at one of Mirissa's luxurious spa resorts?
Mirissa is home to several high-end spa resorts that offer a range of wellness treatments in peaceful and serene surroundings. Check in to a tranquil paradise where you can immerse yourself in a world of relaxation.
Treat yourself to rejuvenating massages, revitalizing facials, and other wellness treatments that will leave you feeling refreshed and renewed. Skilled therapists will help melt away tension, revitalize your body, and restore your sense of well-being.
Indulging in spa treatments and embracing relaxation is the perfect way to recharge your mind, body, and soul, ensuring you leave Mirissa feeling completely rejuvenated.
🤩 Lantern Boutique Hotel is one of the best luxury spa resorts in Mirissa
How to Get to Mirissa
There are various ways to get to Mirissa.
See this article on how to get from Colombo to Weligama. It's essentially the same info for getting to Mirissa, which is only a few kilometres further along the coast from Weligama and also has a train station.
For budget travellers, the best way to reach Mirissa is probably to take the bus or the train. Both are super cheap and a fun experience (as long as you don't have a mountain of heavy luggage).
There are several trains per day running between Colombo and Mirissa. You can check departure times and schedules here. The Colombo-to-Mirissa train usually terminates in either Matara or Beliatta.
Long-distance and local bus services run to Mirissa (and/or Weligama) from a large number of different locations.
If you want more flexibility and comfort, you could always take a taxi (or tuk-tuk) – although these will cost more.
🤩 This is a well-reviewed private transfer from Colombo airport to Mirissa
If you're travelling to Mirissa from Colombo airport, you could book this private transfer to take you straight there.
Alternatively, if you're a confident driver and fancy a bit of adventure, it's also possible to hire your own tuk-tuk (or scooter) and drive yourself. This is definitely the most fun way to get around Sri Lanka and is my preferred mode of transport!
Where to Stay in Mirissa
There's a huge range of places to stay in Mirissa. From simple guesthouses and hostels to luxurious resorts and everything in between, it's easy to find accommodation in Mirissa whatever your budget.
Many places come with their own pool and a range of other facilities, so you'll be sure to find something that suits your needs.
For budget travellers, there are plenty of places that are simple and affordable yet still provide all the necessary amenities and comfort you need. Check out The Hostel, a superb budget hostel that has dorms as well as private rooms.
If you're looking for something a bit more upscale, then there are plenty of mid-range hotels and resorts offering great value for money. Mimoza Mirissa and The Jungle View are two of the best mid-range hotels in Mirissa.
Of course, if you want to splash out and really treat yourself then Mirissa also has some high-end resorts where you can relax in style. Lantern Boutique Hotel is one of the most luxurious hotels in Mirissa.
🤩 Click here to check prices and availability of all other Mirissa accommodation on Booking.com
Or, check out my guide to the best hotels in Mirissa.
FAQs About the Best Things to Do and Places to Visit in Mirissa
Here are some FAQs about visiting Mirissa and what to do in Mirissa.
What is Mirissa, Sri Lanka famous for?
Mirissa is most famous for its idyllic beaches, great surfing spots, and its abundance of marine life including large concentrations of whales.
Is Mirissa or Weligama better?
Mirissa and Weligama are both popular towns in Sri Lanka and are located only a few kilometres apart. In terms of which one is better, it really depends on your preferences.
Weligama is a larger town, with a well-established surfer scene, and just generally a bit more going on. But Mirissa is much more scenically beautiful and has nicer hotels and places to stay overall. The ocean is much cleaner in Mirissa too.
Personally, I prefer Mirissa! But ultimately it comes down to personal preference.
How long to spend in Mirissa, Sri Lanka?
How long to spend in Mirissa really depends on how much time you have and what kind of experience you're looking for.
You could do all of the things mentioned in this post in 3 days. However, you could also spend a week (or more) here if you want to take it easy, relax, and really enjoy the chilled southern Sri Lankan vibes.
Is whale watching in Mirissa worth it?
Yes, whale watching in Mirissa is absolutely worth it. Seeing these magnificent creatures is a really wonderful experience and one that I will remember forever.
However, please make sure that you only book ethical whale-watching trips with responsible operators. The best three ethical Mirissa whale-watching tours are run by Raja & the Whales, Whale Watching Club, and Whale Warriors.
How much is whale watching in Mirissa?
Whale watching in Mirissa costs around $45 USD per person for a 4-6 hour trip with an ethical company.
Is Mirissa, Sri Lanka safe?
Yes, Mirissa is a very safe destination overall. The local people are friendly and welcoming to tourists, and the area is well-developed with good infrastructure and plenty of good places to stay.
Of course, you can be the victim of crime anywhere in the world, and petty crime does occasionally occur here. However, as long as you take the usual precautions, you should be fine.
Be aware of strong ocean currents, and only swim in areas that are patrolled. If in doubt, ask a local before going into the water.
🤩 This is a superb all-inclusive guided tour of Sri Lanka that includes Mirissa (as well as various other highlights)
Final Thoughts About What to Do in Mirissa
Mirissa is a fantastic destination that caters to every type of traveller. From luxury honeymooners to families looking for a peaceful getaway, to budget surf bums, there really is something for everyone here!
With its breathtaking natural beauty, world-class beaches, great hotels and restaurants, and many things to see and do, Mirissa has a lot to offer.
Whether you're planning an adventurous trip or just want to relax and enjoy the scenery, Mirissa has something for you. Take your time exploring this beautiful tropical paradise and prepare to fall in love.