What's the most unusual destination you've ever visited? Have you ever wanted to see more of the world, but been daunted when it comes to actually planning a trip to somewhere a bit more off the beaten track?
Taking the road less travelled can be an incredibly enriching experience. And yet, so many of us tend to stick to the same tried-and-tested holiday spots. I think this is a real shame.
Those who only ever visit the "standard" destinations are missing out on so much.
I'm not saying that countries like France or Italy aren't worth visiting – they definitely are.
Paris is a beautiful city. The villages of Provence are idyllic. The vineyards of Tuscany are gorgeous. And the Colosseum is simply stunning. 
But the world is such a huge, varied place and there are so many incredible off-the-beaten-path travel destinations to discover.
I strongly recommend not limiting yourself to the "obvious" choices. Instead, get out there and explore some of the lesser-known places around the world.
But Why?
A lot of places you'll probably see in your Instagram feed are over-touristed. They've become over-crowded, over-priced, and (in my view) over-rated.
I've travelled a lot in the last 12+ years. I have a lot of treasured and special travel memories. And almost all of them are from times when I was travelling off the beaten path.
In this post, I'll explain why I love to travel off the beaten path, and why I think you should do it too. I'll also tell you a little bit about some of my favourite offbeat travel destinations.
Benefits of Travelling Off The Beaten Path
Some of the following benefits tend to overlap; but, in a nutshell:
It can be more rewarding: Travelling off the beaten path can be an immensely rewarding experience. Not only is it liberating to escape from the crowds that plague popular tourist hotspots, offbeat travel also offers you the chance to immerse yourself in local cultures, enjoy different cuisines, and uncover hidden gems.
You'll have unique experiences: Getting off the beaten path gives you an opportunity to explore places many people don't even know exist. You'll find yourself in places untouched by mass tourism, allowing you to enjoy unique and authentic experiences that you'll remember forever.
You'll meet new people: Away from the tourist traps, you're much more likely to have meaningful interactions with locals who will share their culture with you. You'll probably meet a more interesting range of fellow travellers too.
You're more likely to have a positive impact: By avoiding destinations with mass appeal, you're less likely to contribute to the negative impacts of over-tourism, such as crowding, inflated prices, and environmental damage.
You'll learn more about the world: Travelling to "alternative" destinations gives you amazing insights into different cultures, histories, and ways of life. It might even give you a new perspective on where you live, too.
My Favourite Off-The-Beaten-Path Travel Destinations
Here are 23 of my favourite off-the-beaten-path travel destinations. I've been to all of them and can highly recommend each and every one of them to anybody who wants to see a slightly different side of the world.
The next time you're planning a trip, I recommend stepping out of your comfort zone a little and exploring one (or more!) of these amazing places.
Step outside of the tourist bubble. You might just be surprised at what you find.
Jaffna, Sri Lanka
Sri Lanka is a lush, tropical island paradise just off the southern tip of India. With stunning beaches, varied scenery, delicious food, and a diverse wealth of cultural heritage, this small island nation offers an incredible range of unforgettable experiences.
Most visitors tend to stick to a fairly well-trodden route. They visit the beaches and surf spots of the southwest and southeast, Ella, Kandy, and/or the "Cultural Triangle" in the centre of the island.
Most visitors do not make it up to the far north of the country. But you should – it's awesome.
Jaffna is the capital of Sri Lanka's Tamil-speaking Northern Province and offers a unique cultural experience that's totally different from the rest of the country.
In fact, the whole place feels much more like India than the rest of Sri Lanka. Although it's different from India in many ways too. I've never been anywhere else quite like it.
I spent a week in Jaffna in March this year, and it was definitely one of the highlights of my time in Sri Lanka. Despite being heavily damaged during the Sri Lankan civil war, Jaffna has made an impressive recovery and is now a safe and welcoming destination.
There are plenty of things to see and do in Jaffna, including visiting the ancient Nallur Kandaswamy Kovil temple, which is the most important Hindu temple in Sri Lanka. I was warmly welcomed into the evening puja ceremony here – and showered with gifts of food afterwards.
I don't know a huge amount about Hinduism, but the whole thing was a very powerful experience and one that I will remember forever.
Jaffna Public Library is another of the city's major landmarks. You can also explore the Jaffna Fort, which was built by the Portuguese in the 17th century, and take a stroll through the colourful markets, where you'll find a variety of local fruits, vegetables, and spices.
But perhaps the best thing about visiting Jaffna is the food. Jaffna cuisine is known for its spiciness and unique flavours. In my opinion, it's hands down the best food in Sri Lanka.
One of the things that struck me most about Jaffna is that you hardly see any other foreign visitors there. I think I saw 5 in a whole week. Authenticity score: high.
If you're looking for a destination that's very much off the beaten path and offers a unique cultural experience, Jaffna should be on your radar.
Albania
If you'd like to see a totally different side of Europe, I highly recommend a trip to Albania.
I spent a couple of months living in Albania last year. It's one of my favorite countries in the world and is definitely one of the most underrated gems in the Mediterranean.
Located in the western Balkans, north of Greece and east of Italy, Albania was closed to the outside world for much of the 20th century. Happily, those days are very much in the past, but the country still feels wonderfully undiscovered.
In the south of the country, the Albanian Riviera is home to some of the best beaches in the Mediterranean. This gorgeous stretch of coast is kissed by the impossibly-clear calm turquoise waters of the Ionian Sea, and framed by dramatic mountains.
Inland, you'll find beautiful and well-preserved fortified Ottoman towns and castles, such as Gjirokaster and Berat. The modern, quirky capital of Tirana is packed full of fantastic restaurants, bars, museums, and galleries, and is surrounded by serene mountains, forests, and lakes.
Bordering Montenegro and Kosovo in the north, the dramatic Albanian Alps are a paradise for hikers and nature lovers, with several national parks and other protected areas.
Albania rewards adventurous travellers more than any other European destination I've ever visited. The people are warm and incredibly hospitable, the scenery is breathtaking, and (best of all) in many places you'll be the only foreign tourist in sight.
Mexico (beyond Cancun and the Riviera Maya)
Mexico is a massive country with a huge variety of destinations to explore, but sadly many people only ever visit the heavily touristed areas around Cancun and the Riviera Maya. Beyond this relatively small stretch of coast, there's a world of stunningly diverse, exciting locations awaiting you in Mexico.
Despite its reputation for crime, the majority of Mexico is perfectly safe to visit, provided you take the usual, sensible precautions.
My personal favorite Mexican state is Oaxaca, on the country's southwest Pacific coast.
It's an incredible region with stunning beaches, a vibrant and colourful colonial capital (Oaxaca City, or "Oaxaca de Juárez"), and some of the best food in the country. In fact, Oaxaca is considered to be one of the culinary capitals of Latin America.
Another great state to explore, Chiapas runs along the border with Guatemala and shares more with its southern neighbour than with the rest of Mexico. It's a wild and ancient land, with spectacular mountains, colourful waterfalls, and some wonderfully unspoiled beaches.
The picturesque city of San Cristóbal de las Casas is perched high in the mountains and is a fascinating place to learn about the local Indigenous communities who live in this area.
Or, if you're more of a big city person, Mexico City is one of the most vibrant, cultured, and fun-loving capital cities in the world. Check out the elegant Condesa neighborhood, home to some of the city's best restaurants, galleries, and bars.
Don't miss the National Museum of Anthropology, which is one of the best museums I've ever visited and contains a giant collection of artifacts from Mexico's pre-Hispanic civilizations.
Mexico is a wonderful place to explore, and I'm confident you'll find something that you love if you step a little off the beaten path there.
Almaty, Kazakhstan
Kazakhstan is an enormous, diverse country and Almaty, the former capital, is a fascinating cultural melting pot. Of all the cities I've visited in the world, Almaty is probably the one that surprised me the most.
Nestled in the shadow of the snow-capped Tian Shan Mountains, Central Asia's "Big Apple" is a modern and cosmopolitan city with an incredible natural setting.
The city has a unique blend of Russian, European, Central Asian, Chinese, Middle Eastern, and Mongolian influences, due to its historically strategic location on the Silk Road.
The Green Bazaar is a great place to stock up on local produce, spices, and traditional ingredients from around the region.
Take a stroll through the lush and beautifully landscaped Panfilov Park, which is home to a beautiful Orthodox cathedral made entirely from wood, plus a number of sculptures and other monuments.
One of the most memorable experiences you can have in Almaty is to take a trip to the Arasan Baths. This spa complex contains a range of saunas, steam rooms, plunge pools, baths, and even a Moroccan-style hammam, all housed inside an amazing building with traditional Central Asian architectural features.
From just outside the city, you can take a cable car up to Shymbulak, a high-altitude mountain resort, where you can ski in the winter or hike in the summer.
If you have a little more time to explore, the area around Almaty is home to some of the most spectacularly wild and untamed mountain scenery, with soaring peaks, pristine rivers and lakes, and expansive steppe grasslands.
The dramatic Charyn Canyon (the "Grand Canyon of Central Asia"), picturesque Kolsai Lakes National Park, and the vast and otherworldly Altyn-Emel National Park are all breathtaking and (relatively) accessible from the city.
This place is a million miles from the "Kazakhstan" of the Borat movies and an amazing gateway to a captivating and unique region that's a long way off of most people's travel radar.
Namibia
Namibia is a vast, sparsely populated country in southern Africa. It's one of the safest African countries to visit, one of the easiest to explore independently, and home to some of the most incredible natural scenery on the continent.
In the southern Namib Desert, Sossusvlei is a spectacular place known for its endless sea of towering sand dunes, some of which are among the tallest in the world.
Next to this is the impossibly photogenic Deadvlei, named for the remains of ancient acacia trees that have been petrified by the intense heat and dryness.
In the north of the country, Etosha National Park is one of the largest national parks in Africa and one of the best places for spotting wildlife.
As well as the "Big Five" (lion, leopard, black rhinoceros, elephant, and African buffalo), you have an excellent chance of seeing a host of other stunning species here, including zebra, giraffe, wildebeest, cheetah, and ostrich.
For a truly unforgettable experience, hire a 4×4 fully equipped with camping gear (roof tents are amazing, even if you don't usually like camping).
Head to Spitzkoppe, an ancient granite outcrop that rises dramatically 5,600 feet from the Namib desert, and spend a night there under the stars. The night sky here is spectacular beyond words.
Kyrgyzstan
Kyrgyzstan is a landlocked country in Central Asia known for its rugged landscapes and nomadic traditions. The country is often called the "Switzerland of Central Asia" because of its epic mountain scenery, glaciers, canyons, and crystal-clear lakes.
When I visited Kyrgyzstan, I hiked in the Tien Shan Mountains, rode horses through high-altitude pastures, stayed in traditional yurts, and was blown away by the warm hospitality and kindness of the local nomadic communities.
If you're looking to get off the beaten track and explore a country that offers a unique blend of natural beauty, nomadic culture, and adventure, Kyrgyzstan is the perfect destination.
The capital city, Bishkek has a fascinating blend of cultures, with nomadic sheepherders brushing shoulders with suited business people, merchants, and everybody in between.
One of my favourite things about visiting Kyrgyzstan is the opportunity to experience the traditional nomadic way of life.
The Kyrgyz Community Based Tourism Association is a fantastic organisation and offers a range of tours, homestays, workshops, and other activities that allows you to explore the unique culture of Kyrgyzstan in an authentic (and sustainable) way.
Kenya (outside of fancy safari resorts)
Kenya is rightly known for its world-famous safari experiences and luxurious safari lodges. However, there's so much else to explore in this unforgettable East African country.
I've spent several weeks in Kenya, and it's definitely one of my favourite countries on the continent.
It's an incredibly diverse place, both scenically and culturally. From the coral-fringed beaches of the Indian Ocean to volcanic landscapes, ancient forests, and mountainous highlands, Kenya has a huge range of natural landscapes that will take your breath away.
With vibrant cities full of culture, history, and architecture there's plenty to explore off the beaten track in Kenya.
You can hike in the lush green Aberdare Mountains, visit the UNESCO World Heritage Site of Lamu Island, or explore the bustling markets of Nairobi and Mombasa.
Lake Nakuru National Park is one of my favourite places in Kenya. It has an enormous population of pink flamingos, which can be seen from miles away. The park also offers you the chance to see other wildlife such as zebras, giraffes, and rhinos up close.
If you're looking for a real adventure, head to the remote northern regions of the country, such as Marsabit, Lake Turkana, and the Chalbi Desert, where you'll experience the unique cultures of the various Indigenous tribes and communities that live there.
No matter what type of traveller you are, Kenya has something for you.
Eastern Cuba
To get off the beaten path in Cuba, head to the eastern half of the island. This region is particularly rich in culture, history, and unique experiences, but is often overlooked by tourists.
One of the main highlights is Santiago de Cuba, the second-largest city in the country, and the birthplace of the Cuban Revolution. This vibrant city is filled with history, music, and delicious food.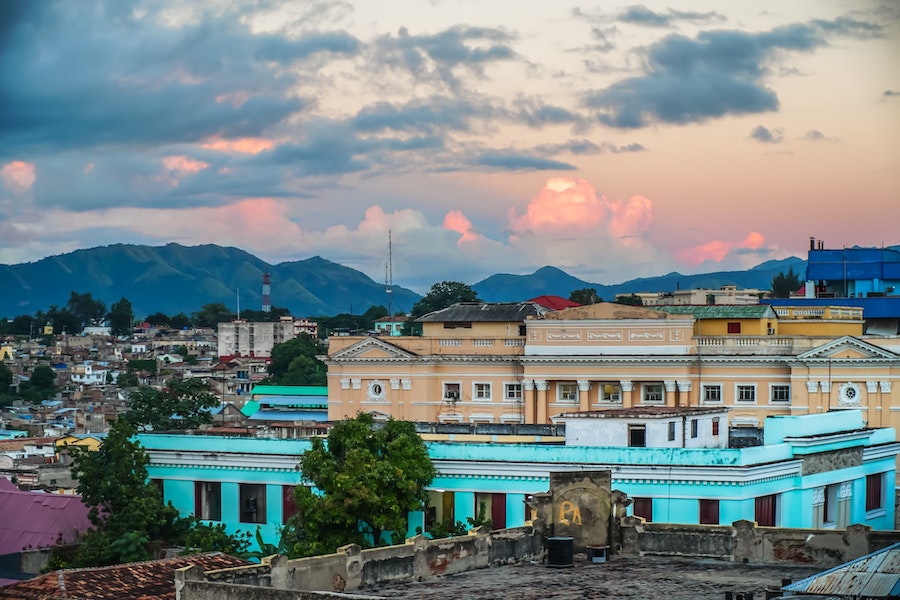 Take a stroll through the Parque Cespedes, visit the Casa de la Trova bar for incredible live music, or explore the Castillo de San Pedro del Morro, a 17th-century fortress that offers stunning views of the Caribbean Sea.
Another must-see destination in eastern Cuba is Baracoa. This small, picturesque town is located on the northeastern coast of the island and is known for its beautiful beaches, historic architecture, and unique cuisine.
The Sierra Maestra mountain range is the highest in Cuba and is home to Pico Turquino, the highest peak on the island. You can hike through lush forests and explore waterfalls and scenic lookout points.
Finally, the beaches in eastern Cuba are some of the best in the Caribbean. Playa Pesquero, located near the town of Guardalavaca, offers crystal-clear water and perfect white sand.
Eastern Cuba is a diverse and fascinating region that is definitely worth exploring.
Sikkim, India
Located in northeastern India, Sikkim is a small state sandwiched between Nepal, Bhutan, and Tibet. It offers a staggering range of natural beauty, with towering snow-capped mountains, sparkling lakes, and dense forests.
Sikkim has several national parks and wildlife sanctuaries. One of the most popular is the UNESCO-listed Khangchendzonga National Park, which is home to a diverse range of flora and fauna, including the magnificent snow leopard.
I went trekking in Sikkim a few years ago, and it's honestly one of the most beautiful places I've ever been. Trekking to the base of Khangchendzonga, the world's third-highest mountain, was pretty tough going, but oh so worth it.
The views from up there are truly breathtaking. You can see for miles and miles across the Himalayas, surrounded by an unbroken sea of snow-capped peaks.
You can also explore the state's rich cultural heritage. Sikkim is an important centre for Tibetan culture, and there are several spectacular monasteries to visit, including Rumtek and Pemayangtse.
It's also worth spending some time in the state capital, Gangtok. This vibrant city is surrounded by mountains and has a mix of modern and traditional architecture and culture. There's some great Nepali food here too!
If you have time, I also recommend checking out the small towns of Pelling and Yuksom. These both offer amazing views over the snow-covered Himalayas and a few historical monasteries that you can visit.
Finally, if you're looking for some relaxation, Sikkim is home to several hot springs that are believed to have medicinal properties. The Yumthang Hot Springs, located in the far north of the state, is one of the best.
Transylvania, Romania
Romania is another European country that offers a wealth of history, culture, and natural beauty, but is often overlooked by travellers. I first went there a few years ago, and have been raving about it ever since.
There's so much to see and do in Romania, and the best way to explore the country properly is to hire a car and go on a road trip.
The central region of Transylvania contains many of Romania's highlights, including the atmospheric medieval cities of Sibiu and Brasov.
Visit the fortified Saxon town of Sighișoara, with its iconic 13th-century clock tower, citadel, colourful buildings, and narrow cobbled streets.
Another of my favourite places in Transylvania is the Transfăgărășan Highway.
One of the best driving roads in the world, this epic mountain road winds its way up and over the Carpathian mountains (i.e. the Transylvanian Alps), with hundreds of corners, steep hairpins, and some seriously incredible views.
Also, if you have more time to explore, check out Vama Veche, a bohemian party town on the country's Black Sea coast.
Oman
Oman is a country of contrasts, from its rugged coastline and vast deserts to its bustling cities and traditional villages.
Whether you're looking to lose yourself in an endless sea of dunes, relax on a pristine beach, or learn about the country's rich cultural history, Oman has something for everyone.
It's definitely worth spending a day or two exploring the historic forts and castles of Muscat, the capital city. Other highlights include the beautiful Sultan Qaboos Grand Mosque and the atmospheric Mutrah Souq.
Take a trip to Nizwa, an ancient and very scenic oasis town that's famous for its 17th-century fortress.
Then head deep into the Wahiba Sands. It's Oman's section of the Rub' al Khali (or "Empty Quarter"), a vast sandy desert that occupies most of the southern third of the Arabian Peninsula.
Here you can experience warm Bedouin hospitality by staying in a traditional desert camp (the stars here are unreal).
Oman is another country that's perfect for a road trip. It's also possible to drive to Oman from Dubai. I've done this and it's (relatively) straightforward.
Latvia
Latvia is a small country located on the Baltic Sea. Its capital city, Riga, is full of amazing Art Nouveau, Soviet, and Modernist architecture.
One of my favourite areas of the city is the Riga Central Market. It's the largest market and bazaar in Europe and is housed inside five enormous 1920s German zeppelin hangers.
It's totally unique and an amazing place to explore. There's some great food to be found here too.
Climb to the top of "Stalin's Birthday Cake" – a skyscraper housing the Latvian Academy of Sciences – for one of the best views in the city.
Beyond the city, Latvia has several national parks, including Gauja National Park, where you can hike, bike, or kayak through pristine forests and rivers. Or simply relax and enjoy the beauty of the Baltic countryside.
On the edge of the park is Sigulda, known as the "Switzerland of Latvia". This charming town offers stunning views of the Gauja River Valley and is home to several medieval castles, including the impressive Turaida Castle.
One particularly unique place to visit is Cinevilla Studios, just outside of Riga. This purpose-built backlot is essentially a large outdoor movie studio, created for filming the movie Defenders of Riga. It contains replicas of historical buildings and reconstructions of Riga in 1919 and resembles an outdoor museum.
Ethiopia
There's nowhere on Earth quite like Ethiopia. This vast country in the Horn of Africa is one of the most diverse, culturally rich countries I have ever had the pleasure of visiting. I've been to Ethiopia two times and can't wait to return there again.
It's an ancient place. As the only country in Africa that was never properly colonised, Ethiopia retains a particularly rich cultural heritage that's still seen in everyday life, from traditional clothing to music, religion, food, and language.
Ethiopia is a melting pot of East African and Arabian cultures, with a unique form of Orthodox Christianity, numerous different languages, and some of the best coffee in the world.
One of the highlights of Ethiopia is undoubtedly its breathtaking landscapes. From rugged mountains to lush jungles, burning deserts to crystal-clear lakes, the variety of beauty on display here is off the charts.
The Simien Mountains National Park offers some of the best hiking in Africa, with spectacular views of the surrounding valleys and opportunities to spot rare wildlife such as the Ethiopian wolf.
The Danakil Depression is one of the most otherworldly places on the planet – a geothermal wonderland of colourful hot springs, sulfurous volcanoes, and salt lakes.
But visiting Ethiopia isn't just about its natural beauty – it's also a land steeped in history and culture. The country has a rich and diverse heritage, with archaeological sites, museums, and monuments that offer a window into its fascinating past.
Lalibela is one of the most famous of these sites, with its incredible rock-hewn churches dating back to the 12th century. The ancient city of Harar and the impressive castle at Gondar are also definitely worth seeing.
And of course, there's the food! Ethiopia's cuisine is rich, varied, and utterly delicious.
Estonia
Estonia is another small Baltic state known for its natural beauty and rich history. I loved exploring the country's medieval towns, picturesque countryside, and pristine beaches.
The capital city of Tallinn is a UNESCO World Heritage Site, with a well-preserved medieval Old Town that looks like something straight from a fairy tale. Wander through the atmospheric backstreets, visit the hilltop Toompea Castle, or take in the incredible views of the city from the Tallinn TV Tower.
In the southwest of the country, Soomaa National Park is a nature-lover's paradise, with large areas of forest, wetlands, and rivers to explore. You can go hiking, kayaking, canoeing, snowshoeing, or even bog walking. Keep an eye out for lynx, elk, wild boar, bears, wolves, and golden eagles.
Another great place to visit in Estonia is the island of Saaremaa, located off the country's western coast. It's known for its untouched beaches, unique architecture, and peaceful countryside.
Ubatuba, Brazil
It's no secret that Brazil has no shortage of paradise beaches and gorgeous coastal scenery.
But rather than sticking only to the internationally-famous and popular spots (Copacabana, Ipanema, Lopes Mendes, etc.), why not head a little off the beaten path and explore an area that mostly only locals know about.
Ubatuba, a coastal region of São Paulo state, is located just 40 kilometres southwest of the attractive colonial town of Paraty. However, despite its relative accessibility, most foreign visitors don't make it out this way. Which is a shame, because it's incredible.
Surrounded by the forested Serra do Mar National Park, and with picture-perfect white sand beaches and clear turquoise bays, Ubatuba is one of the most beautiful places I've ever been.
It's a perfect spot for long walks on deserted beaches, diving and snorkelling in the crystal-clear water, surfing, paddle boarding, kayaking, or simply relaxing and soaking up the chilled tropical vibes.
My favourite beach in the area is Praia da Almada, although there are loads of other great ones too.
Turkey (Northern and Eastern)
Turkey is a fascinating country that spans both Europe and Asia. It's a popular holiday destination, although it's also fairly easy to get off the beaten track here. All you need to do is head north, and east!
The road between Amasra and Sinop is one of the most amazing coastal drives I've ever done, and I'd definitely recommend it if you have your own transport. Along the way, you should stop off in as many of the attractive small towns and villages as you can.
One must-visit destination in northeastern Turkey is the ancient walled city of Trabzon, on the Black Sea coast. The city is known for its historic Hagia Sophia Museum (not to be confused with the Istanbul one), a former church that dates back to the 13th century, and its neighbourhoods built into the hillside.
Nearby, the spectacular Sumela Monastery is perched high up on the side of a vertical cliff. From here you can enjoy great views out over the surrounding valleys, with their dense pine forests and numerous waterfalls.
Heading further east, the city of Erzurum offers a range of historic attractions, including the Çifte Minareli, a 13th-century madrasa, and Erzurum Castle, which dates back to the Byzantine era. The city is also known for winter sports, including skiing and snowboarding in the surrounding mountains.
Also, don't miss the ancient ruined city of Ani. Known as the City of 1001 Churches, Ani used to be the medieval capital of Armenia and was one of the most important trading outposts on the Silk Road.
Today, it lies ruined and forgotten, its crumbling buildings looming dramatically from a lonely plateau in Turkey's far northeast.
Despite its historical and archeological significance, very few tourists make it out here. When I visited, I was the only person there and had this awesome place all to myself. You should definitely come here – it's well worth the effort!
In the wild and picturesque region of south-eastern Turkey, Lake Van is surrounded by snow-capped mountains and traditional villages. It's the world's largest soda lake and is home to a diverse range of wildlife.
If you're after some serious adventure, you can climb the 5,136m Mount Ararat, Turkey's highest mountain and the legendary resting place of Noah's Ark. The climb isn't very difficult in a technical sense, although the altitude makes the final section quite challenging.
There are many other incredible off-the-beaten-path travel destinations in northern and eastern Turkey, these are just a few of my favourites.
Somaliland
If I had to pick the most offbeat place I've ever been, it would probably be Somaliland.
Somaliland is a self-declared state in the Horn of Africa. It declared independence from Somalia in 1991, but this isn't recognised by the international community. So technically it's an autonomous region of Somalia.
Although the local people will be at pains to remind you of the stark differences between Somaliland and Somalia. Unlike the rest of Somalia, Somaliland is a relatively well-functioning, stable democracy. It has its own parliament, currency, public bodies, police, and security forces.
Most areas of Somaliland are fairly safe to visit. For adventurous, open-minded, and respectful tourists, it's a fascinating and extremely rewarding place to explore.
One must-visit destination in Somaliland is the Laas Geel cave paintings. These ancient colourful paintings are thought to be between 5,000-10,000 years old and depict people, cows, and various other animals.
They're some of the most important cave paintings in all of Africa and provide fascinating insights into prehistoric farming, culture, and religion in the region.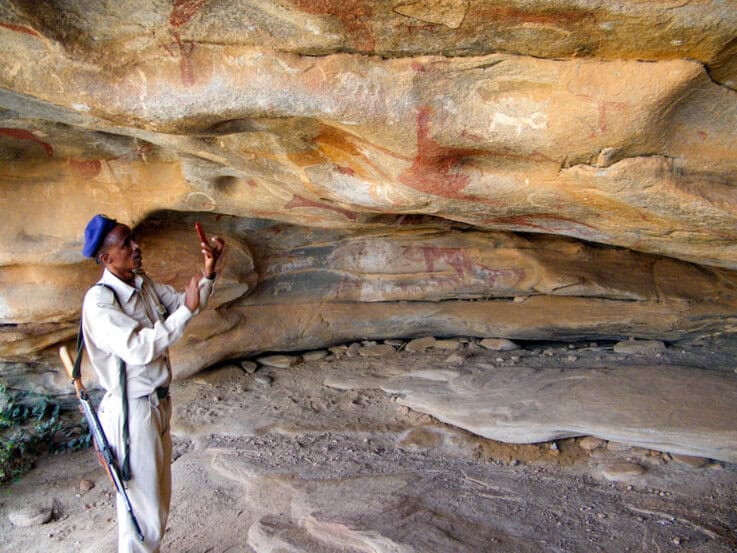 The capital, Hargeisa is vibrant and bustling, with a thriving arts scene and an array of restaurants serving delicious Somali cuisine. Check out some of the local markets, which offer everything from traditional textiles to camel milk.
You can also explore the ancient port city of Berbera. There is a huge beach here and you can swim in the clear, warm waters of the Gulf of Aden (sans pirates).
It's a pretty amazing place.
Far more people visit Antarctica each year than Somaliland. If you're looking for a destination that's about as far off the beaten path as you can get, this place would be a good bet.
Svaneti, Georgia
Georgia is a fascinating country located in the Caucasus region, at the crossroads of Europe, Asia, and the Middle East.
Its capital, Tbilisi, is a cosmopolitan and highly liveable city known for its historic old quarter, sulfur baths, Orthodox churches, and panoramic views from the Narikala Fortress.
My favourite part of the country, though, is Svaneti. This mountainous region is the highest inhabited area in the Caucasus. It's a spectacularly beautiful place, running along the northern border with Russia, with snow-covered mountains, glaciers, crystal-clear streams, and green meadows full of wildflowers.
The small town of Mestia is the capital of Svaneti and the main gateway to the region. Nestled high up in an alpine valley, Mestia is a paradise for outdoor lovers and adventurous travellers. It's a dream destination for hiking, skiing, rafting, and canyoning.
Given its remoteness and physical isolation, Svan culture is quite distinct from the rest of Georgia. The region is also known for its mysterious 1,000-year-old towers, medieval churches, and its untouched villages that seem totally frozen in time.
Photos just don't do this place justice, it's somewhere that you really need to see to believe.
Zagreb, Croatia
Most visitors to Croatia head straight to the sparkling Dalmatian Coast, and to the ancient walled cities of Dubrovnik and Split. True, these places are spectacular and definitely worth visiting.
However, Croatia's capital, Zagreb, also has a rich history, vibrant culture, and is significantly less touristy. It's also much cheaper to eat and drink out here.
I visited Zagreb in December last year and loved the city's traditional markets (especially Dolac Market – amazing food), cozy restaurants, welcoming bars, and positive vibes. It reminded me quite a lot of Vienna, only friendlier and more relaxed.
The city is divided into two parts: the Upper Town (Gornji Grad) and the Lower Town (Donji Grad).
The Upper Town, also known as the Old Town, sits on top of a hill and has distinctive medieval architecture, narrow cobblestone streets, and various historical landmarks, such as St. Mark's Church, the Stone Gate, and the Croatian Parliament.
The Lower Town is the modern, commercial centre of Zagreb, with wide avenues, bustling squares, and elegant architecture from the 19th and 20th centuries. Here, you'll find many shops, restaurants, and cafes, as well as cultural institutions like the Croatian National Theatre.
One of the most unusual features of Zagreb is Grič Tunnel, which runs all the way underneath the Upper Town. Built as a bomb shelter and secure transport link during World War II, the tunnel is 350 metres long and has an eerie, unique atmosphere.
Today, Grič Tunnel is used for art exhibitions, immersive light and sound shows, and other cultural events.
A short walk from Ban Jelačić Square (the city's main square and meeting place) you'll find Valhalla Beer Bar, my favourite bar in Zagreb. The craft beer here is excellent.
Bosnia & Herzegovina
Bosnia & Herzegovina is another of my favourite European countries. Located in the heart of the Balkans, it's a land of beautiful scenery, rich cultural heritage, and warm, friendly people.
One must-visit destination in Bosnia & Herzegovina is the city of Mostar, known for its iconic Ottoman Stari Most bridge, which dates back to the 16th century. It was destroyed in 1993 during the Bosnian War, but then rebuilt in the years after.
Sarajevo, the capital city, is a fascinating and incredibly atmospheric place. It has many important historical sites, such as the Latin Bridge, where Archduke Franz Ferdinand was assassinated in 1914 (leading to the start of World War I).
Spend some time exploring the Old Town, also known as Bascarsija. This area is full of narrow streets, traditional Ottoman-style buildings, and markets selling everything from handmade souvenirs to fresh produce.
I also recommend taking the gondola up into the mountains above the city. Here you'll find the former Olympic bobsledding course and various hiking trails through the pristine forest. I love how calm and peaceful it is up there, despite it being very accessible from the centre of the city.
For a particularly authentic and fun local experience, don't miss a night of drinking and live music at Sarajevska Pivara Brewery. They have an enormous wood-paneled bar and the (delicious) beer comes straight from the brewery itself, right next door.
Outside of the cities, Bosnia also has a huge amount of natural beauty. Some of my favourite other spots in the country include Blidinje Nature Park, Jayce Waterfalls, Kravice Waterfalls, and the Blagaj Tekke – a historic Sufi monastery built into a cliff.
Bosnia is amazing, add it to your list!
Chimanimani, Zimbabwe
The southern African country Zimbabwe is itself a relatively off-the-beaten-path-travel destination, despite it being full of natural wonders (Victoria Valls being a case in point). However, if you do find yourself there and want to get even further away from other tourists, head over to Chimanimani.
Chimanimani is a breathtaking region in the eastern part of Zimbabwe, bordering Mozambique. The area is dominated by the beautiful Chimanimani Mountains, which offer some of the most spectacular views in the country.
Here you'll find lush forests, sparkling rivers, and cascading waterfalls. It's a paradise for hikers and nature lovers, with several hiking trails, ranging from easy walks to challenging treks that take you through pristine wilderness and past rugged rock formations.
I went hiking here a few years ago and loved every second of it.
One of the most popular attractions in the area is the Bridal Veil Falls, an impressive waterfall that cascades down from a height of over 50 metres. You can take a refreshing dip in the pool at the bottom of the falls or take a hike up to the top for even more breathtaking views.
The whole area is protected and is home to a variety of wildlife, including baboons, klipspringer antelopes, and rare bird species.
Lake Malawi
Malawi is known for its beautiful untouched landscapes, including along the shores of Lake Malawi.
One of the African Great Lakes, it's the fifth-largest freshwater lake in the world by volume and is home to more fish species than any other lake in the world.
I've camped on the shores of Lake Malawi – it was incredible.
Another highlight of Malawi is its national parks, including Liwonde National Park and Nyika National Park. Here you can spot elephants, lions, leopards, hippos, and a range of other iconic African wildlife.
The country is also rich in traditional culture, and you'll experience music, dancing, and crafts such as wood carving and basket weaving playing in most places that you go.
Malawi is affectionately known as the "Warm Heart of Africa" because of its welcoming people. People stopped me in the street just to say hello and welcome me. It's a wonderful place.
Sudan
Note: As of May 2023, there's currently an armed conflict occurring in Sudan between rival factions of the military government. It is not a safe place to visit at the moment.
However, I've still included it in this post because it's an amazing country to explore and hopefully will be safe to visit again soon. I visited Sudan in 2011 and have very strong memories of my time there.
First off, the Meroe Pyramids are out of this world. They're smaller than the ones in Egypt but, unlike the Egyptian ones, you'll probably have them entirely to yourself. I slept inside one of them.
These ancient pyramids were built by the Kingdom of Kush between the 8th century BC and the 4th century AD and are some of the most impressive ancient structures in the world.
The capital city of Khartoum is home to the National Museum of Sudan, which houses a vast collection of artifacts and exhibits that showcase the country's ancient history, including the ancient Kingdom of Kush and the Nubian civilisation.
Sudanese cuisine features a variety of dishes made from spiced lentils, chickpeas, vegetables, and meat, often served with a traditional fermented flatbread called Kisra.
Very few tourists visit Sudan. Those that do are rewarded with a fascinating and rewarding destination that has a unique blend of history, culture, and natural beauty.
Final Thoughts on Travelling Off The Beaten Path
The next time you're planning a trip abroad, I really recommend exploring somewhere a little different, beyond the typical tourist destinations.
Any of these places would be a great place to start. Don't let the fear of the unknown stop you from experiencing the wealth of what the world has to offer.
Travelling off the beaten path is so incredibly rewarding. It's something that I urge everybody to do at least once.
A word of warning though: adventurous travel is addictive!