Turkey is a seriously beautiful country, and one that I keep returning to. There's just so much to see and experience in this amazing place. Northern Turkey, on the Black Sea coast, is possibly my favourite part of the country.
The Black Sea region (called "Karadeniz", in Turkish) is green, lush, and stunning. Here you'll find misty, forested mountains, temperate rainforests, alpine meadows, pristine lakes, and more fascinating historic sights than you could ever hope to visit.
Unlike the west and south-west of the country, Northern Turkey is relatively undiscovered. Pulling into a picturesque seaside village, it often feels like you're the only foreign tourist in town. Sometimes you are!
People in Nortern Turkey are amazing.
Turkish culture is known for its hospitality.  But in Northern Turkey, this is taken to a whole new level.
The first time a total stranger buys you a coffee, or lunch, or invites you to stay at their place, it can be disarming.  "Why are they doing this??", you wonder.  However, acts of kindness like this towards visitors are totally normal here.  
I lost track of the number of times local people bought me lunch, took me on free boat trips, invited me to stay at their house, and dropped everything to show me around.  It's really amazing, and something that took me totally off guard.
I think this is partly due to the lack of mass tourism here.  People stop you in the street.  They are genuinely interested to meet you and hear your story.  They want to chat, and to show you their world.
It's a fantastic place, full of fantastic people.
** If you need a visa to visit Turkey, I recommend using iVisa.com.  Their online visa processing service is quick, secure, and easy to use. **
Best Places To Visit In Northern Turkey
There are too many beautiful places in Northern Turkey to include all in this post.  The following are some of my favourites.
I've set these out in a rough order that makes sense to follow, travelling from west to east.
Okay, Istanbul isn't technically in the western Black Sea region of Turkey, but it's close enough.  Plus, you'll probably be starting and/or ending your trip through northern Turkey here.
This huge city in north-west Turkey is also one of the most incredible metropolises on the planet.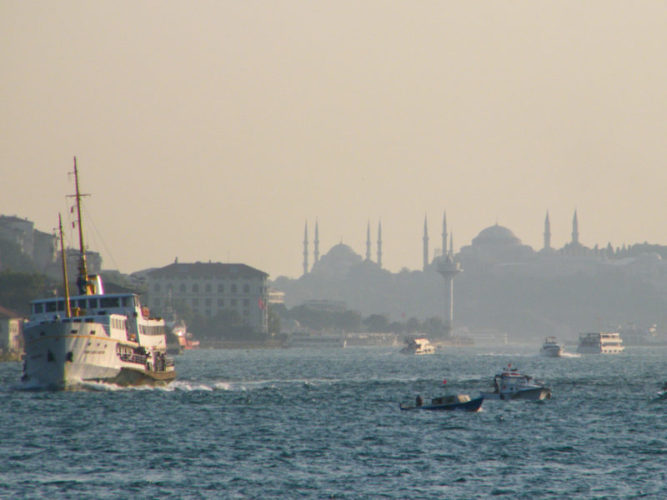 Saying that Istanbul is a place "where East meets West" is super cliché.  But it's also totally true.  
The largest city in Turkey (and Europe, depending on the definition) spreads (literally) over two continents.  It's the crossroads between Europe and Asia, both physically and culturally.
Istanbul has been one of the world's most important cities for more than 2,500 years.  The ancient Greeks and Romans treasured its strategic location, and it later became the capital of both the Byzantine and Ottoman Empires.
Today, more than 15 million people call this amazing place home.  It's the cultural and economic capital of modern Turkey, and one of the world's truly global megacities.
There's so much to see and do in Istanbul.  You could spend weeks here, exploring somewhere new each day.
For those with less time, I'd suggest basing yourself in Sultanahmet, the centre of the Fatih district of old Istanbul.  Many of the city's most famous sights are located in or close to here.
Top sights close to Sultanahmet:
Make sure you check out the Haghia Sophia ("Aya Sofya", in Turkish) and the Blue Mosque (or "Sultan Ahmet Camii").  These are two of the most incredible buildings and places of worship that I have ever seen.
Other highlights include the maze-like Grand Bazaar – the largest covered bazaar in the world (with more than 4,000 shops), and the Topkapı Palace – former residence of the Ottoman Sultans, which now contains a museum.
One of the best ways to experience Istanbul is just to wander and get lost in its winding backstreets.
A boat trip on the Bosphorus is another great thing to do.  This will give you a sense of the scale and layout of the city.  I recommend doing it at sunset, when Istanbul is at its most atmospheric.
With the domes and minarets of hundreds of mosques silhouetted against the sky, and the call to prayer echoing across the water, this place will take your breath away.
Istanbul is, overall, a very safe city to visit (just keep an eye out for pickpockets), and is easy to explore independently.
However, if you would prefer a guided tour to see the highlights, there are many excellent companies to choose from.
Amasra is one of the prettiest towns in Northern Turkey and probably my favourite city in Turkey.  
Located on the Turkish Black Sea coast, it's a popular holiday destination for Istanbulites and others from the surrounding regions.
Driving the 450 kilometres from Istanbul to Amasra is fairly straightforward and takes about 6 hours.
The tiny old town is located on a narrow peninsula, connected by a Byzantine-era stone bridge.  Amasra castle was built by the Romans, and its citadel has walls and other fortifications that date back to the 7th and 8th centuries.
There are enough things to do in Amasra to justify spending at least a couple of days here.  It's a beautiful place to wander, exploring the maze of narrow winding streets.  
The whole place oozes with rich history and is very atmospheric, especially in the evenings.  
There are several little restaurants with outside terraces, where you can feast on freshly caught fish, whilst watching the sun go down.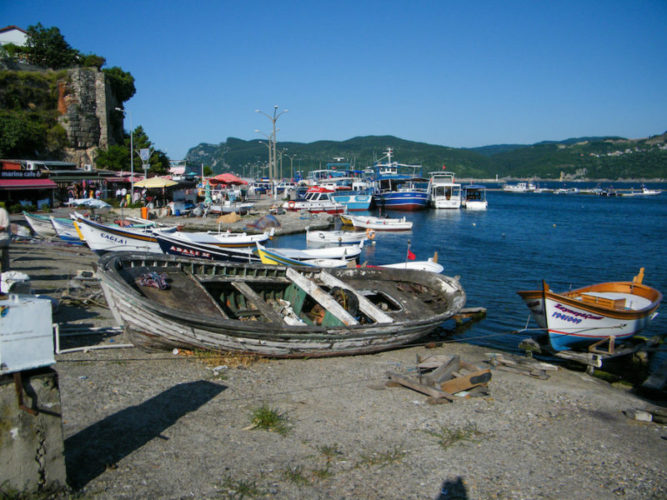 Amasra has an idyllic natural harbour.  In summer, it's a popular place for swimming and catching the sun.  From here, you can also take boat trips along the rugged coastline.
Amasra is one of my favourite towns in Turkey.  As well as being a really pretty place, people here are super friendly.  Its easy to make friends with strangers, who are often keen to strike up conversation with you over tea.
Amasra to Sinop: Coastal Drive
The coastal road between Amasra and Sinop is one seriously epic drive.
In parts single-track and poorly paved, this road will probably amaze and terrify you in equal measures.  
The views are stunning, as the road snakes around jagged cliffs, passing through emerald green forests, above the impossibly blue, glistening sea.
The 320 kilometre coastal route from Amasra to Sinop takes about 8 hours to drive.  
I'd strongly recommend spreading the journey out over a few days though.  You want to take your time here.  There are loads of beautiful places to stop along the way, and friendly people to meet. 
Having your own car is strongly recommended, so you can take as long as you want and stop wherever you fancy.
Some of the best places to stop along the coastal highway include:
Kurucaşile, which has a famous shipbuilding yard where you can see traditional wooden boats being built by hand.
Kapısuyu and/or Çakraz, both fantastic spots for beach camping, lunch, chilling, etc.
Cide (pronounced "Chide"), which has a great beach and decent, cheap accommodation.
Gideros Bay, a beautiful spot for a picnic.
However, fear not if you don't have a car.  
It is possible to do the journey by taking several dolmuş (pronounced "dol-mush") – i.e. shared minibus taxis, similar to matatus or dala dalas in Africa, which run on set routes along the way.  
Not the most comfortable way to travel (and the driving is often pretty aggressive), but fun all the same.  
(Make sure you grab a window seat on the left side of the bus, for the best views!)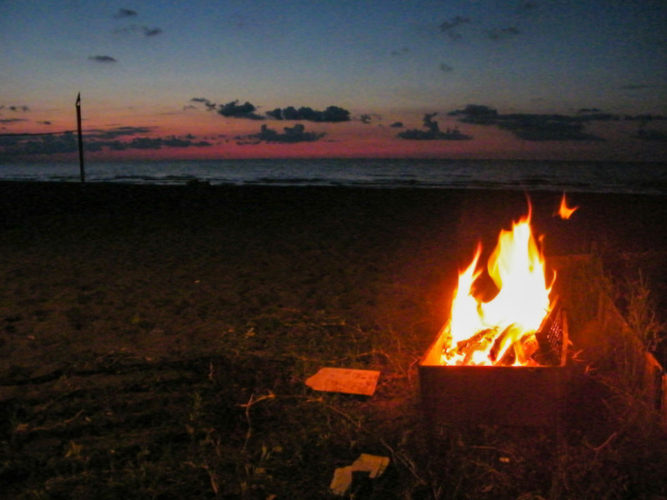 Sinop is an ancient walled city built on a narrow peninsula jutting out into the Black Sea.
Historically important since the time of the ancient Greeks, today Sinop is said to be the happiest city in Turkey.  It's also one of the best cities to visit in Turkey.
Sinop is a peaceful, pleasant place with an attractive seafront and lots of good places to eat and drink.  Take a wander along the harbour, where you'll find many cafes and stalls selling amazingly fresh grilled fish.
Sinop Castle was originally built in the 7th century BC, and is one of the main sights in town.  This amazing fortress housed an infamous jail up until 1997, when it was converted into an open air museum.  
Starting at the castle, you can walk along the tops of the old city walls.  Climb up the main tower for panoramic views over the old city, its harbour, and out to sea.
Trabzon is the largest city in Turkey's Eastern Black Sea region, and is a convenient hub for exploring the area.  It's also one of the cheapest places to visit in Turkey.
This is another place steeped in thousands of years of history, dating back to the 8th century BC.  It was an important port on the route linking Persia to the Mediterranean.
Trabzon's ancient walled city was built into the side of a hill, with steep flights of stairs connecting several neighbourhoods.
There are many ancient churches, monasteries and mosques in and around Trabzon.  The most famous of these is the Hagia Sophia (/Aya Sofya).  This smaller cousin of the Hagia Sophia in Istanbul is one of the best preserved Byzantine buildings in the world.
Inside, the walls and ceilings are covered in intricate frescoes depicting stories from the Bible.
The Ottomans converted this amazing building to a mosque.  Since then, it has served as both a hospital and a museum, and is now again a mosque.  
At an altitude of 1,200 metres, perched on a ledge half way up a vertical cliff, Sumela Monastery has the most incredible setting imaginable.
Getting to this unbelievable place is part of the experience.  You have to follow a winding road up through a misty valley, past raging streams and gushing waterfalls.
Looking up into the thickly forested mountains, you might catch a glimpse of the monastery, suspended impossibly on the cliff-edge.
This Greek Orthodox monastery was founded in the 4th century and is built, literally, out of the side of the mountain.  
Looking out of the narrow windows into thin air, all the way down to the valley floor below, it's hard not to be amazed that this was built 1,700 years ago.
The complex has a number of chapels, including a rock church decorated with beautifully intricate frescoes depicting Biblical scenes.  
There are several other buildings around the main courtyard, including kitchens, a bakery, living quarters, a library, and a natural spring said to contain holy water.
It's certainly one of the most touristy sites in Northern Turkey, but is an incredible place nonetheless.  Definitely worth a visit.
I'd try to go early or late in the day (ideally midweek) to avoid the worst of the crowds.
The attractive village of Uzungöl is situated on the shores of a lake, 90 kilometres south-east of Trabzon, in a valley surrounded by towering mountains.
It's a popular rural retreat with people from Trabzon and surrounding cities, who come here for long weekends to escape the hustle and bustle of city life.
Uzungöl has a definite Alpine feel, with several smart wooden lodges boasting comfortable rooms and a range of facilities.  Inan Kardeşler Hotel is a popular one, and has a fantastic restaurant specialising in local dishes. 

Hiking is a popular activity in the area, and there are several trails starting from the village.  
Depending on how far you want to go, you can either take a leisurely stroll around the lake, or hike further up through the thick forests into the surrounding mountains. 
The Culture Routes Society has some great information on the various long distance hiking trails and biking routes in Turkey.
Rize is another town on the Turkish Black Sea coast, 80 kilometres east of Trabzon.  
There's a decent range of places to stay here, and it makes a good base for exploring the surrounding area.
Rize is an important centre of tea production.  People in Turkey drink a lot of tea, and Rize tea ("Rize çayı") is said to be the highest quality.  (If you haven't tried Turkish tea, do – it's delicious!)
The fertile green hills of Rize province are home to several large tea plantations, some of which you can visit.  One of the most accessible is the Ziraat Tea Garden, a short walk up into the hills from the centre of town.  
Here you can sample the local produce at its freshest, whilst enjoying the views over Rize and the surrounding hills.
Rize also has a medieval castle, built in the 6th century, plus a small ethnographic museum.
Turkey's Black Sea region has many yayla (summertime mountain pastures).  Ayder is one of the most famous of these.
Located in a lush green valley in the Kaçkar Mountains, about 84 kilometres from Rize, the village itself has beautiful surroundings.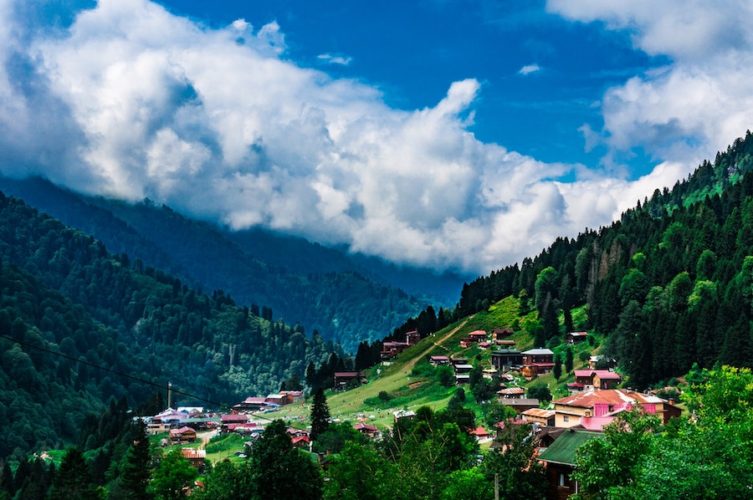 People come here to enjoy the fresh air, fantastic mountain scenery, and the famous hot springs, which are said to have healing properties.  
Ayder is surrounded by densely forested mountains, sparkling streams and waterfalls.  It's a beautiful spot, and a perfect place to connect with your inner calm.  
And if that's too hippie-dippy for you, there are many hikes and mountain biking trails in the hills around the area.
Keep an eye out for the many beehives which are hung on trees.  Rhododendron honey is a speciality of this region.
Karagöl Sahara Milli Parkı
In the far corner of north-eastern Turkey, near the border with Georgia, you will find the Karagöl Sahara National Park (Milli Parkı).
This 8,000 acre park has a beautifully wild feel, whilst still being fairly accessible.  It's a paradise for nature lovers, hikers and campers.
There's a lodge located inside the park where you can stay, if you'd prefer not to camp.
This is one of the best places to visit in Turkey in September, especially if you are a keen hiker.  At this time, the weather is likely to be warm and dry, though you should always be prepared for rain.
130 kilometres south-east of Karagöl Sahara, on the (closed) border with Armenia, is the ruined city of Ani.
Ani is sometimes called the City of 1,001 Churches, and is a UNESCO World Heritage Site.  
Strategically located on a triangular plateau between three gorges, Ani was the capital of the medieval Armenian kingdom in the 10th and 11th centuries.  At this time, it was one of the largest and most prosperous cities in the world.
Ani was later an important trading post on the Silk Road, which linked China to Europe and the Middle East, due to its strategic location at the crossroads of cultures.
However, the Mongols captured and sacked the city in the 1200s, which marked the start of its gradual decline.
Damaged by earthquakes, harsh weather and repeated Mongol invasions, the beautiful buildings were later abandoned and forgotten.
Today, this amazing, otherworldly place feels like a mythical ghost city.  The whole area is eerily silent.  I didn't see any other tourists there at all, which is amazing given how spectacular and unique it is.
Exploring the crumbling ruins, with no other soul in sight, it's easy to imagine you are discovering for the first time the remains of a long lost civilisation.
Ani is one of the most surreal, memorable places I've ever visited.  It's definitely one of the most underrated locations in Turkey.  I can't recommend it highly enough.
Tours Of The Turkish Black Sea Coast Region
If you want to visit northern Turkey and the Black Sea coast region, but don't want to have to bother with the hassle and logistics of organising your trip independently, you could always join a guided tour.
There are many different tours to choose from. Some are short day trips with guides, others are multi-day (or even multi-week) trips where all of your transport and accommodation is taken care of. 
It's up to you what style of trip appeals to you most.
You can browse through and book some of the most high-rated North Turkey tours on Viator.
Or, take a look at some of these options:
Northern Turkey Travel Guide - Practical Info & Tips
How To Get To Northern Turkey
Istanbul airport is Turkey's main port of entry. It's a global aviation hub, and most major international airlines fly here. Alternatively, you could fly to Ankara (Turkey's capital city), and then head north to the Black Sea.
There are a few international flights to Turkey's Black Sea cities (such as Trabzon and Samsun), but not many. Either way, it'll probably be cheaper to fly to Istanbul.
I use – and recommend – Aviasales to find the best deals on flights. Their search engine is really easy to use and often picks up on promotions and discounted fares that are missed by other comparison sites.
You can search across a range of dates, and it suggests the best dates and times for you.
Give it a try! Click here to compare the cheapest flights available.
Istanbul is a major port, and it's also possible to arrive here by ship.
I've also crossed into (and out of) Turkey through the land borders with both Greece and Georgia, both of which are fairly straightforward.  
If you're bringing a car with you, make sure you have its registration documents to hand, in case customs officers want to see them.  
International driving permits are not strictly necessary, though I think it's always a good idea to have one, to avoid any potential issues at the border.
Transport Around Northern Turkey
Sightseeing in Turkey is a breeze, and the country has an excellent public transport network.
Cheap and comfortable long distance coaches connect most major towns and cities.  
Dolmuş minibus taxis ply the routes between the smaller towns and villages, both on the coast and in the mountains.
However, if your budget will stretch to hiring a car, I'd strongly recommend it.  
Northern Turkey is an amazing place for a road trip.  Having your own car enables you to travel at your own pace and stop wherever you want.  Finding free parking usually isn't difficult either.
It's much easier to get to more remote places (e.g. lakes, forests, and the surrounding countryside) if you have your own wheels.  
For those who are into camping, this also helps to keep your costs way down. 🙂
The best deals on car hire in Turkey are usually found on localrent.com.  They compare the prices of local car rental companies, which tend to be significantly cheaper than the big international hire companies.
Click here for the latest prices.
You can also use this handy tool to compare offers:
Alternatively, why not drive your own car there…
And if you have even more time, see my guide to travelling from Tbilisi to Mestia, in neighbouring Georgia.  This would make an excellent extension to your Karadeniz road trip.
** Love road trips?  Me too.  Check out some of my other road trip-related posts, including:
Where To Stay In Northern Turkey
With the notable exception of Istanbul, accommodation in Northern Turkey is generally much cheaper than the more touristy parts of the country (e.g. the Mediterranean south-west coast, Cappadocia, etc.).
In most places, you'll find a range of different accommodation, ranging from simple pansiyons (guesthouses) to luxury hotels.  Most offer free WiFi and free parking.
It's usually a good idea to book in advance, especially during  Turkish public holidays.
Booking.com is a great place to look to compare the lowest prices.
Click here to compare the latest prices.
Alternatively, you can search here:

If you have camping gear, there are many great campsites, often in picturesque locations.  
For those keen to do a spot of wild camping, this is generally fine, provided you are considerate of your surroundings.  Don't pitch up too close to where people live/work, don't be stupid with fire, and take all of your rubbish with you.
Check out this article where I review the best tents for wild camping.
In short… One of the best tents that money can buy is the MSR Hubba Hubba 2-person tent.

Best Time To Visit Northern Turkey
Northern Turkey has a milder, wetter climate than the rest of the country.  Humidity is fairly high, and you should be prepared for rainfall year-round, due to the mountains and the Black Sea north of Turkey.
The best time to visit Northern Turkey is between June and September, when the region receives the least rain and the weather is pleasantly warm.  However, accommodation is typically more expensive during the summer months.
Due to its unique mild climate, north Turkey is also one of the best places to visit in Turkey in July, when the rest of the country is baking in the midsummer heat.
The mountains can be cold and misty even in the summer though, so warm clothing and waterproofs are essential if you're planning to hike.
Winters in the Black Sea region are cool and damp.  Though this is when accommodation is usually cheapest.
Thanks for reading.  I hope you've found this Northern Turkey travel guide helpful.  
Karadeniz is one of the most beautiful, unexplored places in Turkey.  If you've never visited before, I'd really recommend it.
Have I missed any of your favourite destinations?  Which do you think are the most beautiful towns in Turkey?  Let me know in the comments below.
Like This Article? Pin it!